For those who revel in the thrill of risk, who defy convention with their daredevil spirit, and who command speed with an unyielding boldness, behold GV2's Motorcycle collection—a manifestation of dangerously exquisite distinction. This collection is not just an accessory; it's a statement, a symphony of Swiss automatic movement and audacious design that demands attention and respect, both on and off the racetrack.
Within the heart of this timepiece beats a rhythm of precision and innovation that epitomizes Gevril's legacy. The Swiss automatic movement, a hallmark of horological excellence, resonates within this masterpiece, cementing its place as a beacon of luxury on every discerning wrist. The design, adorned in an array of vibrant colors or subtle textures, captures attention with a magnetic force that is as captivating as it is fearless.
However, the Motorcycle collection is not merely about striking aesthetics; it's about being prepared to strike, to seize every moment with unapologetic intensity. Embodying the original GV2 case style, the watch boasts a stadium-shaped profile that artfully balances peekaboo dates and intricate internal construction elements, all framed by spoke-inspired detailing. The leather strap, evocatively "stitched" like an iconic motorcycle jacket, is a nod to legendary style and an embodiment of sharp sophistication.
This timepiece is a fusion of art and engineering, a testament to the cutting-edge technology of the motorcycle world. Ingeniously constructed with three miniature shock absorbers and a disc brake on the dial, this timepiece is more than just a watch; it's a piece of mechanical art that can handle rapid turns and split-second decisions with unruffled grace.
Defying the ordinary, the Motorcycle collection embraces the extraordinary. With water resistance up to 100 meters, it's a testament to courage and audacity. This collection isn't for the faint-hearted; it's for those who dare to be outstanding, those who carve their path with speed and style, those who wear their passion on their wrist as an emblem of their identity.
Regular price
Sale price
$3,095.00
Unit price
per
Sale
Sold out
Specifications

GV2 4552 Men's XO Submarine Swiss Automatic Watch

GV2 Men's XO Submarine Swiss Automatic Watch
48mm 316L stainless Steel Case with Blue dial, Luminous Hands and Hour Markers
Unidirectional Rotating Bezel, Dual time zone inner bezel, Date at 3
Genuine Blue Italian Leather Strap with Tang Buckle
Anti-reflective Sapphire Crystal
Water Resistant to 100 Meters/10ATM
Swiss Automatic Movement MD309G
Free Shipping

Options for the US include:

Free ground shipping

(2-5 business days)
$10 for 2nd-day air
$20 for overnight service

International Orders:

Free Shipping - duties and taxes on international orders billed upon delivery. On orders $150 or less, items may be shipped USPS and have an extended delivery timeframe.

See here for more details: Shipping Policy
Warranty

Your new watch is covered by a two-year manufacturer's warranty that protects against manufacturing defects. For more details, please visit gevril.com/warranty
Share
View full details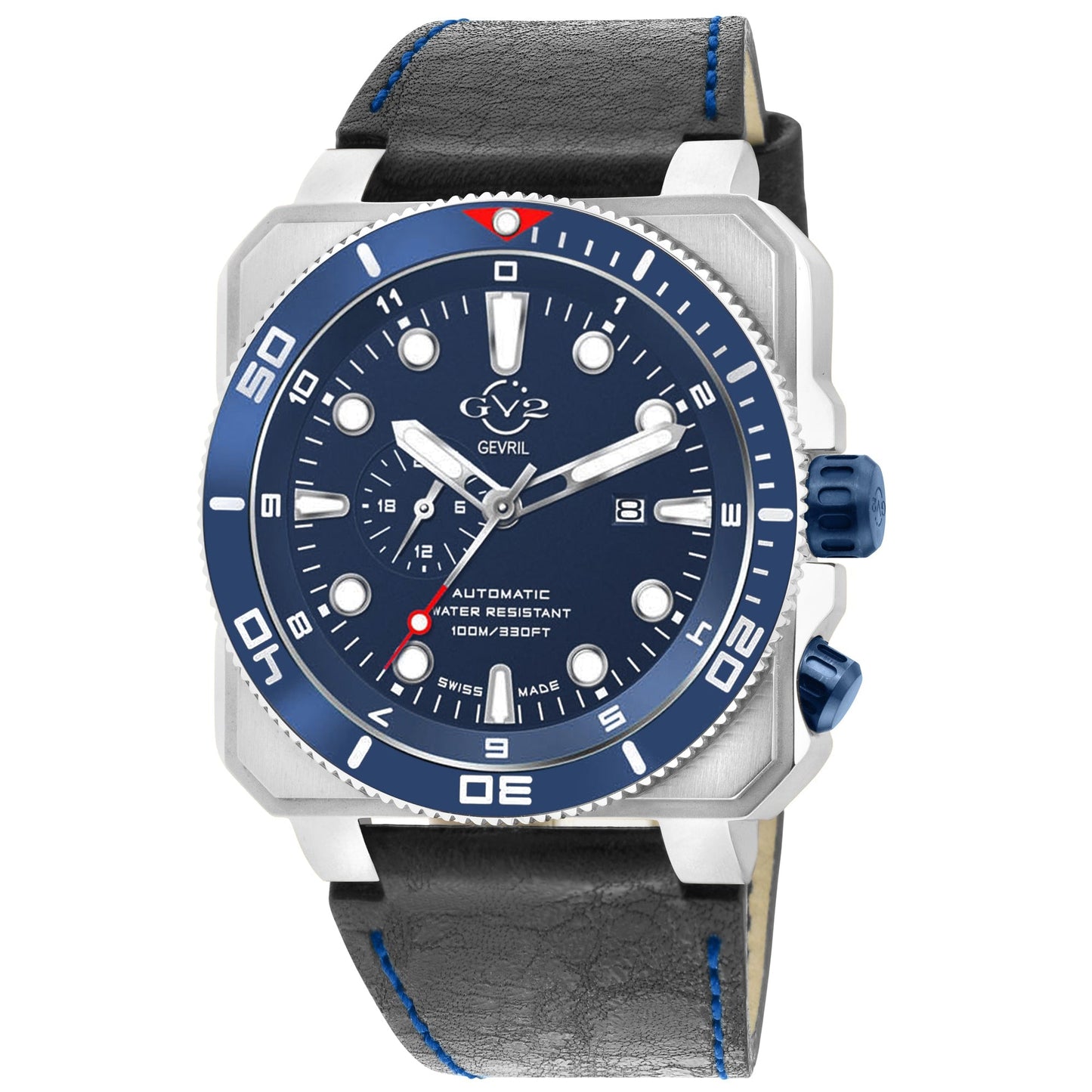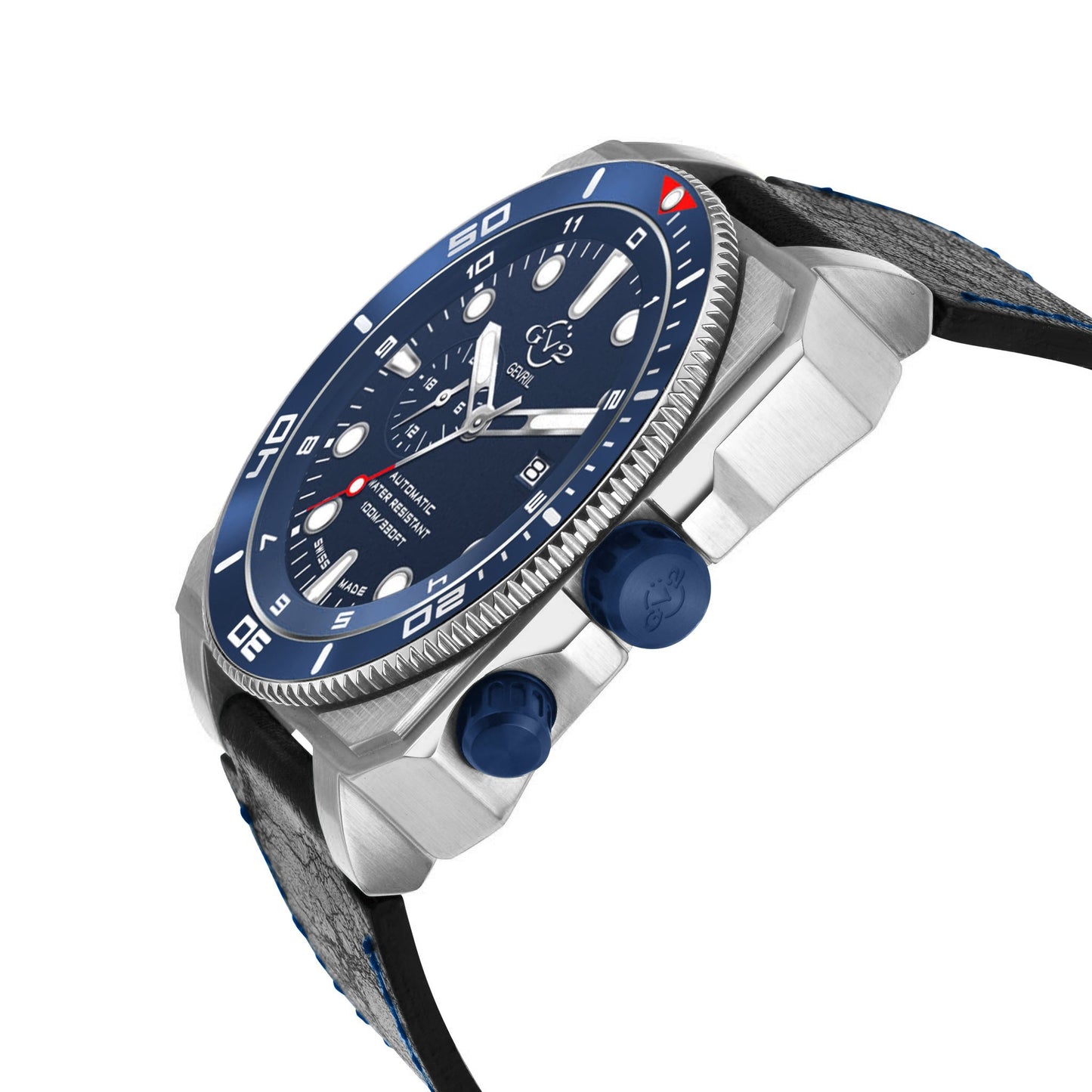 The history of Gevril watches is a story that combines an illustrious watchmaking past with an innovative modern revitalization. The company origins date back to the mid-18th century and Jacques Gevril, the gifted Swiss watchmaker who is the founder and inspiration of the eponymous brand.
Today the Gevril name endures thanks to the vision of a Swiss horologist and businessman who lifted the brand to its current heights as an established Swiss watch company.
Jacques Gevril was an up-and-coming watch and clockmaker in 1758 when he accompanied his colleague Pierre Jaquet-Droz on a trip to Madrid. There, the men presented a selection of complex musical automata to King Ferdinand VI. The king was so impressed he bought every piece.
Jaquet-Droz returned home the following year but Gevril remained in Spain to fortify his reputation as a master watchmaker and was appointed Royal Watchmaker by the king. Gevril lived in Spain for many years thereafter, refining his craft and producing watches for the Crown.
Gevril's traditions were survived by future generations of Gevril watchmakers including Moyse Gevril and Daniel Gevril, who built their reputations on horological innovations and artistic enameling techniques.
Today Gevril pocket watches are highly collectible: one is even located in the Muséum Genève and another is part of the collection of the Wilsdorf family, founders of Rolex.