Unveiling the epitome of opulence, the GV2 Women's Lombardy Swiss Diamond Watch Collection stands as an ode to Lombardy, the veritable epicenter of fashion and finance in Italy. This collection is more than a timepiece; it's an aspirational embodiment of luxury that seamlessly weaves together elegance, sophistication, and unmatched design.
Enveloped in a monochromatic palette, each watch in this collection captures the very essence of Lombardy – a land steeped in dramatic landscapes, vibrant art, rich culture, and unparalleled opulence. From the cosmopolitan allure of Milan's high-end fashion scene to the breathtaking vistas of Lake Como, a journey through Lombardy is a passage into the world of peak refinement.
Emanating an aura of unbridled luxury, these watches are a testament to the grandeur that defines Lombardy. Whether cloaked in the rich, covetous jewel tones, the pristine Alpine white, or the sumptuous Jet Black, each Lombardy timepiece ignites a subtle spark of elegance in the eye of the beholder.
Stainless steel accents and exquisite diamond detailing adorn the 36mm round monochromatic stunners, casting an enchanting spell that is amplified by the dazzling 8-diamond studded dial and the luminous Italian leather band. Every facet of these watches radiates with the essence of Italian luxury, elevated further by the precision of Swiss quality movement.
From fashionable to delicate, soft to bright, the Lombardy Collection is nothing short of awe-inspiring. It embodies the spirit of astonishment, the gleam of brilliance, and the allure of shimmering luxury. Lombardy transcends mere timekeeping; it is an invitation to adorn yourself with the very essence of opulence, to seize the spotlight, and to embrace the extraordinary brilliance that Lombardy embodies.
Regular price
Sale price
$2,295.00
Unit price
per
Sale
Sold out
Specifications

36mm Stainless Steel Case. Dark Green Glitter Dial
8 Diamonds on Dial, Hidden crown at 3 o'clock
Genuine Green Leather Strap with Tang Buckle
Anti-reflective Sapphire Crystal
Water Resistant to 50 Meters/5ATM
Swiss Quartz Movement Ronda 762
SKU: 14400
Free Shipping

Options for the US include:

Free ground shipping

(2-5 business days)
$10 for 2nd-day air
$20 for overnight service

International Orders:

Free Shipping - duties and taxes on international orders billed upon delivery. On orders $150 or less, items may be shipped USPS and have an extended delivery timeframe.

See here for more details: Shipping Policy
Warranty

Your new watch is covered by a two-year manufacturer's warranty that protects against manufacturing defects. For more details, please visit gevril.com/warranty
Share
View full details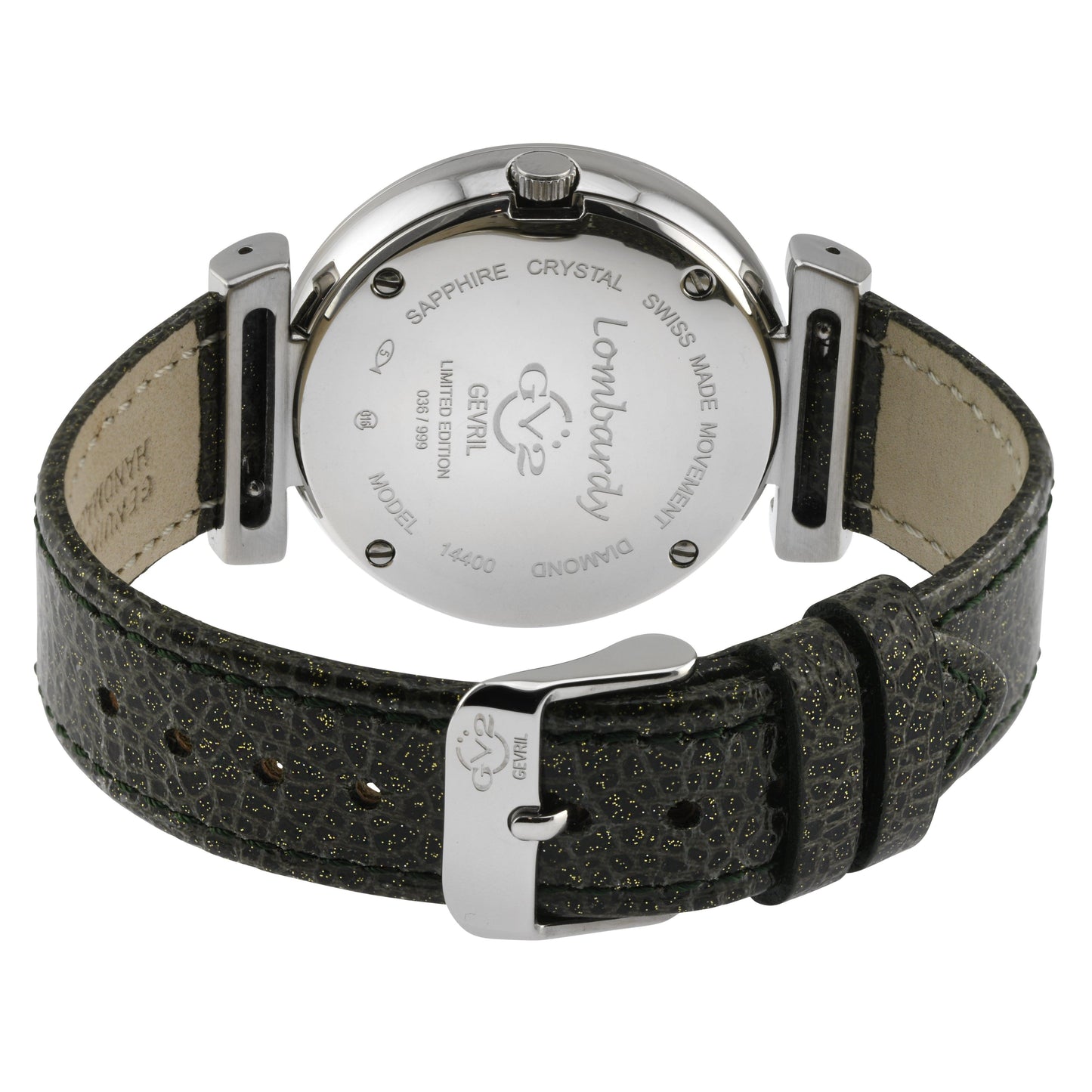 The history of Gevril watches is a story that combines an illustrious watchmaking past with an innovative modern revitalization. The company origins date back to the mid-18th century and Jacques Gevril, the gifted Swiss watchmaker who is the founder and inspiration of the eponymous brand.
Today the Gevril name endures thanks to the vision of a Swiss horologist and businessman who lifted the brand to its current heights as an established Swiss watch company.
Jacques Gevril was an up-and-coming watch and clockmaker in 1758 when he accompanied his colleague Pierre Jaquet-Droz on a trip to Madrid. There, the men presented a selection of complex musical automata to King Ferdinand VI. The king was so impressed he bought every piece.
Jaquet-Droz returned home the following year but Gevril remained in Spain to fortify his reputation as a master watchmaker and was appointed Royal Watchmaker by the king. Gevril lived in Spain for many years thereafter, refining his craft and producing watches for the Crown.
Gevril's traditions were survived by future generations of Gevril watchmakers including Moyse Gevril and Daniel Gevril, who built their reputations on horological innovations and artistic enameling techniques.
Today Gevril pocket watches are highly collectible: one is even located in the Muséum Genève and another is part of the collection of the Wilsdorf family, founders of Rolex.