Introducing the Malachite Elegance Dial - a horological masterpiece infused with the captivating allure of Arezzo, where artisanal brilliance harmonizes with nature's splendor. Crafted with the finest malachite stone, it unveils a mesmerizing blend of vibrant greens, mirroring the lush landscapes that grace this picturesque city.
Rich with the essence of Arezzo's artistic heritage, this dial is a testament to the skilled craftsmanship honed through generations. Each stroke of color captures the city's creative spirit, as the hands glide with grace, marking the passage of time in elegant precision.
Yet, the Malachite Elegance Dial transcends aesthetics, as it is believed to harbor extraordinary metaphysical powers. Embrace the potent energy of malachite, as it resonates with vitality, protection, and transformative growth, enveloping its wearer with a sense of renewal and rejuvenation.
Just as the Arno River winds through Arezzo, this exquisite stone flows with the nurturing energies of the earth, guiding you towards inner strength and profound healing. Let the Malachite Elegance Dial be a timeless emblem of the enchanting connection between human artistry and nature's wonders. Embrace the mystical wisdom of malachite, as it weaves a harmonious tapestry of elegance and empowerment around your wrist.
Journey through time, guided by the enchanting allure of the Malachite Elegance Dial, where the essence of Arezzo's heritage intertwines seamlessly with the ever-flowing river of time. Elevate your existence and celebrate the harmonious union of art, history, and natural wonder, embodied in this horological masterpiece from the heart of Arezzo. Embrace the transformative aura of malachite, and embark on a profound voyage of self-discovery, led by the spirit of this magnificent city.
Regular price
Sale price
$2,595.00
Unit price
per
Sale
Sold out
Specifications

GV2 13302 Women's Arezzo Swiss Made Diamond Watch

GV2 Women's Swiss Diamond Watch from the Arezzo Collection
33mm round IPYG Case, Diamond Cut Bezel
Malachite Dial, 12 Diamonds
Push Pull crown with Malachite Cabochon
Genuine Italian Green Handmade Leather Strap with Tang Buckle
Anti-reflective Sapphire Crystal
Water Resistant to 50 Meters/5ATM
Swiss Quartz Movement Ronda 763
Disclaimer: In light of the exquisite characteristics inherent to natural stone, it is important to appreciate that the intricate patterns and resplendent colors of each individual piece may gracefully differ.
Free Shipping

Options for the US include:

Free ground shipping

(2-5 business days)
$10 for 2nd-day air
$20 for overnight service

International Orders:

Free Shipping - duties and taxes on international orders billed upon delivery. On orders $150 or less, items may be shipped USPS and have an extended delivery timeframe.

See here for more details: Shipping Policy
Warranty

Your new watch is covered by a two-year manufacturer's warranty that protects against manufacturing defects. For more details, please visit gevril.com/warranty
Share
View full details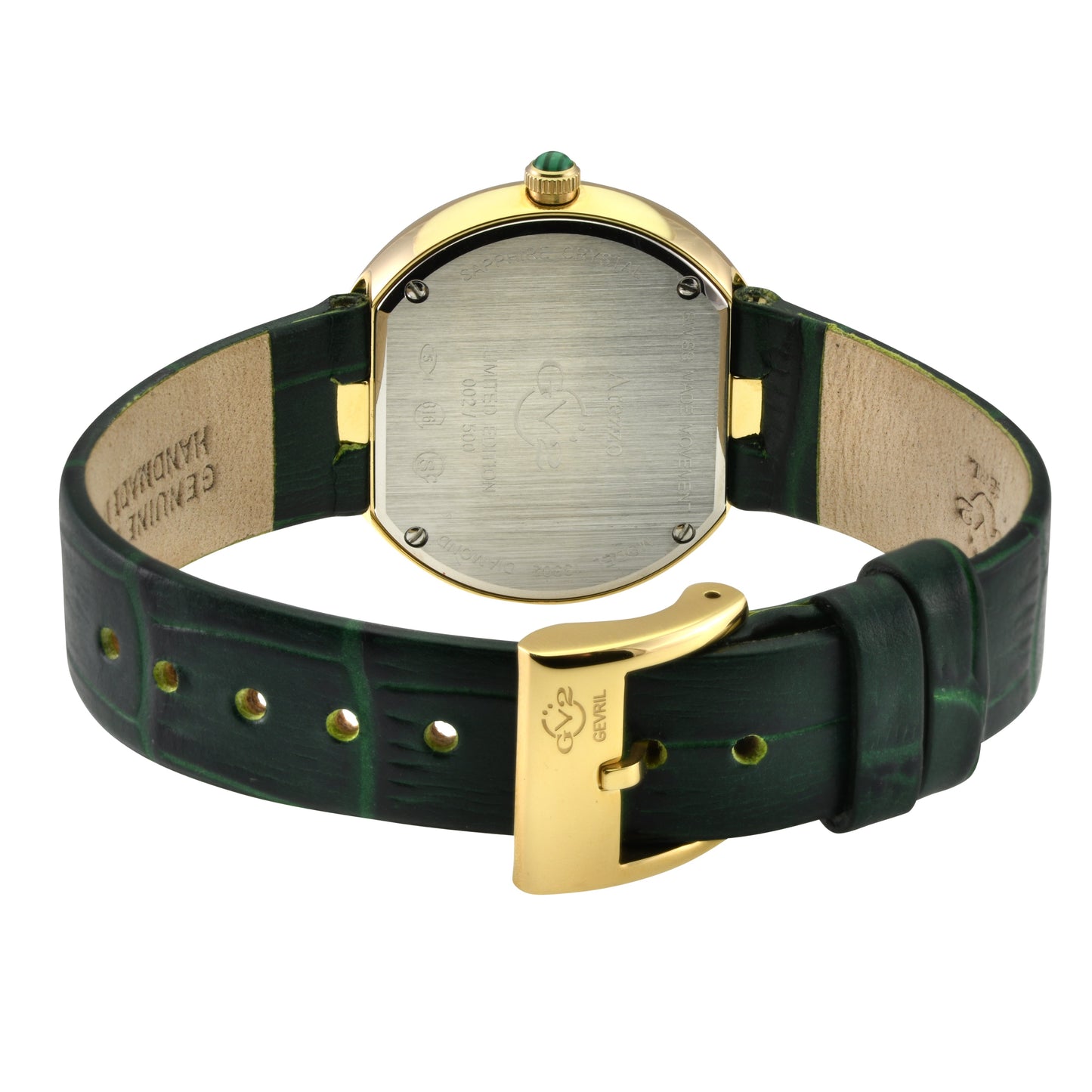 The history of Gevril watches is a story that combines an illustrious watchmaking past with an innovative modern revitalization. The company origins date back to the mid-18th century and Jacques Gevril, the gifted Swiss watchmaker who is the founder and inspiration of the eponymous brand.
Today the Gevril name endures thanks to the vision of a Swiss horologist and businessman who lifted the brand to its current heights as an established Swiss watch company.
Jacques Gevril was an up-and-coming watch and clockmaker in 1758 when he accompanied his colleague Pierre Jaquet-Droz on a trip to Madrid. There, the men presented a selection of complex musical automata to King Ferdinand VI. The king was so impressed he bought every piece.
Jaquet-Droz returned home the following year but Gevril remained in Spain to fortify his reputation as a master watchmaker and was appointed Royal Watchmaker by the king. Gevril lived in Spain for many years thereafter, refining his craft and producing watches for the Crown.
Gevril's traditions were survived by future generations of Gevril watchmakers including Moyse Gevril and Daniel Gevril, who built their reputations on horological innovations and artistic enameling techniques.
Today Gevril pocket watches are highly collectible: one is even located in the Muséum Genève and another is part of the collection of the Wilsdorf family, founders of Rolex.